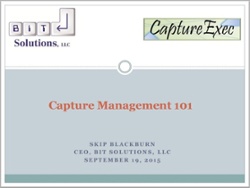 Better managing your Capture Management process can have a drastic impact on your company's success. There are many things you can do to improve and strengthen your Capture Management process, all the while making it more efficient, more cost effective, and more successful.
Learn how you can create a better, and more repeatable, Capture Management process.
Download our Capture Management 101 presentation to learn:
How and when to begin the Capture process
What (and how much) interaction should your Capture Executive (Capture Manager) have with the government?
The right questions to ask (and who you should be asking)
The importance of an Account Power Map
What you can (and should) do to manage your Capture and improve your success rate
The information you should be tracking (and how you should track it)
If you would like to see what other resources we offer, please visit our Knowledge Center.
Download this Presentation