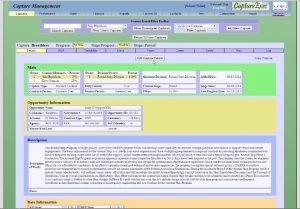 Your Capture Executive needs to manage a tremendous amount of information that they absorb, collect, create to be successful in understanding and knowing everything there is to know about the customer, competition and value. 
But what is the easiest, most intuitive solution for people who are constantly on the go?  What information should they gather?  What questions should they ask and when?  How can they save time creating Gate Reviews?  Is there a more integrated way to create a strong team?  How can software help better manage and delegate tasks for a more integrated capture team?
The CaptureExec CRM solution is built to make both the Capture Executive and the Executive Management have a repeatable sales process built to manage their own aspect of the business.
In our short demo you will learn how the Capture tab of our pipeline management software:
Allows Capture Executives and Executive Management to track individual progress of all Captures for both individuals and divisions
Lets companies define Gate Review templates for one-click creation of any PowerPoint, Excel or Word documents
Offers completely user definable Sections, Questions and Answers so Capture Executives know what and when to ask as they manage meetings with Government officials
Manages the teaming process and fully integrates with the Contracts Department for NDAs, TAs & SubKs
Allows collection of competitive SWOT information for analysis and BlackHat meetings
Manages company provided Capture and B&P budgets and internal cost allocations
Download this Demo