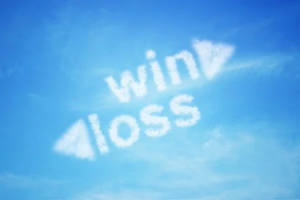 When you win the pot in a poker game or trounce a friend at a game of golf, your euphoria doesn't always lead you into deep analysis about what worked or what led to your win.
Professionals spend a lot more time analyzing every step they take along the sales cycle so they can find out where they went right. The same is true when they lose. Professional sports teams invest millions on post game analysis, practicing repetition of strategies that worked and finding ways to resolve weaknesses.
While it is fine to just enjoy the win or bemoan the loss during friendly competition, you need to pay more attention to your win/loss analysis for success, and to create a repeatable capture management sales process.
Always Debrief Your Wins and Losses
When you win a contract or lose out to a competitor, take the time to figure out why. The more industry knowledge you gain about a deal, the more you can address outstanding issues before the next round of contracts. Knowing why you won the award can give you areas of service to highlight, while understanding your losses lets you strategize for a win in the future.
Talk to the agency that controls the contract, look over the contract award that won, and identify where you went right or wrong. You can only learn from your successes and mistakes if you identify them. A win/loss analysis is a necessity if you want to better your business.
Automate Data Collection
Your time is extremely valuable, and you don't want to waste it on data entry. Your CRM pipeline software can help collect the information you need automatically, leaving you with the time to perform necessary analysis.
In your CRM software, you can see the details of every prospect and the final award, making it easy to compare deals and see trends that led to the win or loss. You can also identify commonalities for your wins, helping to make them repeatable and scalable.
Regularly Review Your Win/Loss Reports
Every quarter, review your win/loss analysis built in our CaptureExec software or a report from your system, and take a look at what the data reveals. Where did your company fail to differentiate from the competition? Price, Technology, RFP Compliance? The more often you look at the data, the more quickly you can respond to change your company process to avoid repetitive types of loss.
Using your quarterly reports, you can reassess your targets and find any areas that need improvement.
All Loss Reasons Can Be Fixed
Losses are inevitable. You are never going to land every contract you pursue. However, you can learn from your losses and fix the problems.
If the issue was a compliance problem, make certain your proposal managers are fanatic about compliance. Create compliance matrices that ensure you are up-to-date.
If the technical solution you offer is weak, invest in the infrastructure to support future efforts.
If your management strategy is the problem, think about restructuring or changing workflow to address concerns.
If you have are losing due to past performance, bid on opportunities where you have more relevance.
For pricing losses, see if your G&A or Wrap rates can be adjusted. Are there places you could lower your expected margins? Can you hire the same experience at a lower rate? Ask some hard questions, and try to find places to ensure a better value proposition to your customers.
Listen, Learn, Grow
After a contract award, you always have the opportunity to ask for a debrief and gather more information. By doing so, you arm your company with actionable next steps to improve your capture management process.
Listen to what the agency has to say, identify areas where you excel and where you might be falling short, address the issues, and be ready for the next opportunity. With a consistent approach to win/loss analysis, you can improve your capture management results.