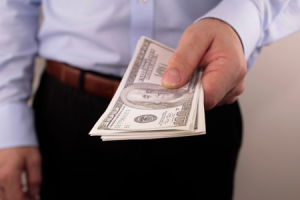 While considering whether or not to purchase a CRM to support your capture efforts, cost typically plays a significant role in the decision making process. As a business, the return on investment (ROI) for resources spent has an impact on large purchases – whether determined through the analysis of cost or commitment. So, are you asking yourself, how much should I spend on a CRM?
Well, you may not like my answer. But honestly, it depends. It depends on the size of your company, the number of users, the features you want to use and size of your data requirements.  You say "What?" – isn't the cost just a per user straight line?  10-users at $xx/user or 500-users at the same $xx/user – right?  Not with the big named CRM companies – let's look at how your monthly user fees get calculated.
Calculating User Fees
First, a lot of companies have a "Baby" package including restricted features offered, small space/memory allocations and little flexibility on changing how the system operates to meet your business process. It is truly just a CRM with Name, Address and Serial number type info fields. It includes no support, no conversion of data, no training, just access to the "Baby" system.
So you can buy a 10-user license for $65/user/month – sounds like a great deal until you see WHAT you get for your $65.  Generally, just a web version of an Excel spreadsheet where you can add some additional fields of information to collect, but not much else.  No business process, no Executive visibility, just Name, Address & Serial number.
Let's look at the typical process:
By the time you finish adding on the features that you really need to operate your business, the cost can easily be in the $150/user/month range.  How can that be possible when the website said $65?
The basic (baby) 10-user model is $65/user/month
The feature rich upgraded 10-user model (which is what you were trying to buy), is $125/user/month
User growth to 15-users goes up to $150/user/month
Disk space and memory increases cost additional $$/user/month
Expanded reporting functions adds to the cost
Customization of the features add to the cost
Support and upgrade fees add to the cost
The main point here is many solutions are a la carte but are not advertised that way so be careful. Be sure that you do these two things:
Compare features between companies that are "really" included with the $65 system
Ask and get in writing about additional fees & costs as your company grows or changes.
There are CRMs available that will meet all of the capture needs of a business, and will cost you no more than $65. If you are currently paying more than that for your CRM service, I would encourage you to do a true apples-to-apples comparison of functionality and capabilities between the low- and high-end subscription CRMs.
Ask Questions and Understand Costs
When considering either a custom system or a Cloud-based CRM system, it's important to make sure you know all of the costs involved. When it comes to CRM systems there's a lot of fine print involved; now is the time to review it. Don't just look at the cost on the websites; examine every component of what is being provided.
Are there hidden set-up costs?
Are there a set number of customizations allowed?
If so, what is the cost for each additional iteration?
Does the cost include periodic upgrades or new versions?
Is training provided and what does it cost?
What does customer support cost?
What if my company grows?
These are just some of the questions you should be asking as you're weighing your options. A reliable CRM company will have no issues answering these questions for you, and will work with you until you are completely satisfied (and your sales are improved). Don't settle and don't pay more than you have to.