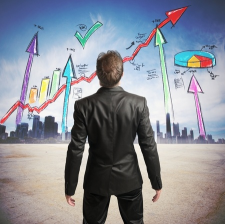 In today's hyper-competitive, 24/7 global economy, automated capture solutions can help your business adopt and maintain a competitive edge by creating repeatable processes, eliminating inefficiencies, building a solid customer data bank and closely tracking sales metrics within your organization.
The result? Your capture management can become more efficient, effective and, most of all, more profitable. Here's how.
Streamlines Processes Across Your Organization
Automated capture solutions provide immediate benefits to your team by helping you shape and scale repeatable process, without many of the time-consuming manual steps and transition points. Whether you have a solution built for your company, or customize an existing package, this kind of automation opportunity can be used to create better, more streamlined processes, such as presentation preparation, proposal writing and development, template building, and gate reviews.
Those are just examples, however. This kind of process improvement can be leveraged in an endless number of ways by management, finance, proposal executives, corporate decision-makers, administrative personnel and your capture management team. No matter who it is, using automation to create sustainable and scalable processes will save you time and make your organization more efficient overall.
Reduces Training Needs (and Cost)
Training your employees costs time and money. Automated capture solutions reduce your training expenses by providing users with simple, powerful applications that make them more productive. They no longer have to endure through long and complicated training sessions just to perform the tasks necessary to advance the capture process. That's because automation software is intuitive and does not demand extensive training.
Easy-to-read graphic dashboards allow users to pull up reviews, reports and updates smoothly and easily. Both support and executive team members can see vital data at a glance, from sales, forecasts, quotas and individual data, to division metrics and more.
Business Intelligence Growth Over Time
One of the unique benefits of an automated capture solution is its value increases over time as customer, competition and industry data is collected. This natural cumulative effect means your automated solution will be able to report trends and opportunities more accurately. For example, the more intelligence gathered on a high-value target customer, a much clearer picture emerges on their challenges, problems and bottlenecks.
In addition, this benefit will also help you keep tabs on the likes and dislikes of important stakeholders and contacts, making it easier for sales, proposal and support staff to customize bids and strengthen bonds with key executives.
Provides Sales Team Activity Insights
Sales can often seem very fluid and vague, as representatives and managers juggle a myriad of clients, prospects, proposals and problems. Automated capture software brings clarity and order to the chaos by empowering you to:
Determine key data points and information to be input in the software;
Examine which sales activities should be tracked on an ongoing basis;
Figure out the key sales metrics that report the health of ongoing projects and opportunities;
Create repeatable sales pipelines that can be used with every new target; and
Allow deep-dive analysis by drilling down from global data to fine-grained sales statistics.
With this kind of solid data and accurate reporting, sales management can make better, more accurate decisions at greater speed.
Improves External Communication with Prospects
Automated capture solutions eliminate slow inter-company interactions between your firm and clients and prospects. With the rapid pace of modern business, you cannot afford inefficient communication, which can lead to process or personnel roadblocks or mistakes. Effective software helps you increase customer insight, reduce time between proposal creation and close of the deal, analyze competition strengths and weaknesses, and provide a 360-degree overview of inter-company activities. This will enable your sales efforts to be faster, more accurate and more impactful.
Saves Money from Reduction of Wasted Efforts
Finally, automated capture software reduces the waste of chasing low-probability prospects and opportunities. You can develop and implement an automated grading system that identifies the long term profit potential of a prospect based on predetermined criteria. High-value targets are assigned more resources, effort and manpower. Low-probability targets are moved to the back burner for later reevaluation or to receive a drip-marketing campaign to soften them up for later development.
Final Thought
The right automated capture solutions start with careful analysis of your current processes and determining the right approach to integrate the software. Once running, you'll see continuous improvement in reporting, tracking, and forecasting of your capture campaigns, increasing your win rate and boosting profitability.