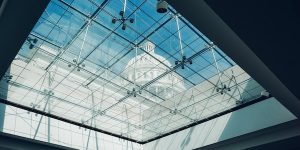 As your company starts looking for new opportunities, you'll realize how much information you need to make smart business decisions about which opportunities to pursue. The federal government awards thousands of contracts worth billions of dollars each year.
Narrowing down the list to something manageable requires a lot of information. Thankfully, virtually every bit of information surrounding government contracts is publicly available.
Public Information Is Free, but Not Instant
As part of every government contract, there is an expectation of transparency. The public has a right to know, so the information is published on a variety of sources. The challenge lies in finding all of the sources and putting together a complete portfolio on selected opportunities.
Given the sheer number of man-hours required for a manual search, you might want to narrow down the list of prospects before doing a deep dive into every RFP.
Aggregators Minimize Manpower
Sites like GovWin.com have some free information, but it is hardly comprehensive. While aggregators put together information from a variety of sources, that doesn't mean you should ignore the opportunity to manually search. Aggregators make mistakes, miss important pieces of information, or overwhelm you with too much data.
A manual search puts you in control of what and how you collect business intelligence for your capture management process.
Free Public Sources
Below is a list of a few sources where you can find information about specific opportunities. Any move in capture management should start with a detailed look at the President's budget. For example, Exhibits 53 and 300 relate directly to IT professionals and offer insight into potential dollars for contractors in IT industries.
Presidential budget proposals and approved budgets are available at the Government Publishing Office website. Once you've taken a look at the total economic picture, it's time to start putting together the information relating to specific contract opportunities.
Federal Procurement Data System: This site tracks procurement activities for more than 60 different government agencies. You can see contract reports, vendor-specific information and much more.
USAspending.gov: Get information on how tax dollars are spent and track awards and contracts. Search by zip to seek out the local competition and see what awards were finalized in your area.
SAM.gov: See what companies are registered to handle government contracts. This can be an invaluable tool when researching for your Black Hat review and for finding possible partners.
Individual Agency Sites – There's a lot of information you can glean directly from agency websites. Take a look at their small business forecast, organizational chart and other information. Just remember that these sites may not be up to date.
Military Procurement – Every branch of the armed forces has a procurement site. A quick search can reveal what the Air Force is buying and contracts available for the Army.
Final Thought
These are just a few of the free information sources out there. When you're prospecting for opportunities or putting together a proposal, you need to have information from many of these sources. The question becomes should you pay an aggregator or do it yourself?
If you depend on an aggregator, you'll likely have no more information than any other company submitting a proposal. Running some manual searches, particularly on those prospects that made the short list, can help you gain the edge on intelligence for your capture management process.