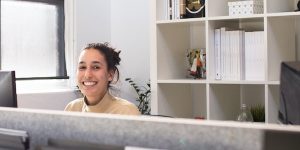 As we continue to mention how securing a face-to-face meeting with the Government can help to improve your Capture Management process, figuring out how to do so can be challenging. Often times there are hurdles you must tackle to get to the right individuals. Small business advocates can certainly be helpful, but you're not the only business they're working with. Because of that, the responsibility is encumbered upon you to continue to push to make those connections. In doing so, be aware and prepared for some of hurdles and subsequent strategies that can help you find success.
The Gate Keeper
Initially, let's address the Gate Keeper. This is the person who controls who gets on the phone or more importantly, on the calendar. It's nothing personal, but it's their job to reduce the number (and necessity) of meetings. If you're not able to influence them, it is going to be very challenging to get a meeting scheduled. As an example, how many times have you been sitting in the waiting room of your physician's office and a pharmaceutical representative comes in, hauling their giant black suitcase behind them?
As this is a common occurrence, you've likely noticed that there are some who are immediately allowed back to the physician's area, and others who are shut down before they're able to finish their introductory sentence. This is a Gate Keeper issue. Some have served their time with the Gate Keeper, and others have not. Like the pharmacy rep, you want to be the one immediately allowed through the door. How does that happen? Persistence.   Visit, Call and send Emails – be nice, don't waste their time, make friends.
Bypass the Gate Keeper
How would we do that? Think stalker. Figuratively speaking… and perhaps literally, to some degree. To clarify, by stalker we mean utilizing various means to DIRECTLY reach the person with whom you're trying to set up a meeting.
This can include reaching out to the Gate Keeper in a number of ways – visit the office in person, make phone calls, email introductions and meeting requests. Persistence.
Making Your Impression
But here's the thing, your Capture Executive will have to remember that the Boss is in high demand and initially they have roughly thirty seconds to capture the Boss' attention. If you haven't prepared an elevator speech for your company and its capabilities, do it. You're going to need it when you're dealing with high level folks. That thirty seconds should address what you can do for them. Your corporate history doesn't matter in this scenario – save that for the big meeting, and even then, keep it applicable. This likely goes without saying, but DON'T turn strategic stalking into something annoying. Make your visits, phone calls and emails evenly dispersed and purposeful.
Use the Gold Card
The Gold Card is the modern day name drop. It's using the previous status and connections of recognized individuals to secure meetings.
Where can you find your very own Gold Card? It isn't as hard as you would think. Although there are firms who deal specifically in this type of service, sometimes it can be just as beneficial for you to ask around. People you know may have connections you haven't even thought of. Seek recent retirees, bring them in as a consultant, or make them a board member, and utilize their connections to help you gain your own portfolio of connections. More often than not, when it comes to ways to improve your Capture Management Process, it's still often about who you know.