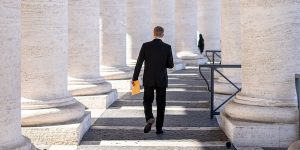 If you've purchased a CRM software, or are considering doing so in the near future, there is one critical question you (or your organization) should be asking: Is the software you've selected adaptable?
When asking this question, it's important not to confuse the concept of adaptability with integration. What you're trying to determine is whether or not the CRM solution you've chosen is malleable; can it adjust and modify to fit your business needs today and in two years as your business changes? Working off the assumption that your intent is to grow your business, when this growth occurs, will your CRM software be able to adapt and grow along with you?
Or, are you trapped with a custom or non adaptable CRM solution that will no longer fit with your new, growth-driven processes? A software solution that is anything but a solution?
What Does the Future Hold for Your Business?
This may seem like a vague question that can be addressed at a later date, but ask yourself, what happens if you decide to transition markets? For example, your operational business model may have targeted the federal space, but suddenly there is a commercial market for the services you offer. Will your CRM software still be of value? Will it be able to track commercial customer with the same level of detail as your federal customers? Can it expand to differentiate between the two markets, and their respective sales goals and capture strategies?
Or, how would you manage a merger and acquisition scenario? Can your CRM acclimate to the potential of new business processes, new personnel, newly refined or even deleted customer base? Perhaps a merger or acquisition is something that you never foresee happening, and thus, don't find it necessary to plan for.
But what if it does? Business environments change at the drop of a hat – you never know when an opportunity will present itself, or when the landscape will change in an unexpected way that forces your hand. Why set up a situation in which a key component of your business capture model is no longer of value to your organization?
However, while it's true that you may never find yourself involved in a merger or acquisition, but what about an organization-wide realignment? How about reorganizing all of the divisions and departments in your organization? Can you forecast that potential? And if it does happen, how will you manage the shift?
The Future Is Unpredictable – Is Your CRM Ready?
All of these are valid, potential concerns for any business – no one knows 100 percent what the future will hold. So if you've taken the time and allocated the resources to adopt a CRM software, shouldn't it be capable of maximizing value for your organization, including change?
Change is inevitable, and adaptability is a fluid response to the inevitable change. So ask yourself, "Can my CRM adapt? If not, why not?"